Are you a sleep coach or sleep specialist?
Jumpstart your practice today with increased exposure and cutting edge technology
Augment your sleep coaching practice with SleepSpace
SleepSpace will improve the effectiveness of your practice, expand your clientele, and increase recurring revenue. Our sleep platform enables you to measure sleep accurately and enhance compliance with proven cognitive-behavioral solutions. We built a digital consensus sleep diary that is augmented through integration with major wearables, smart lights, and sound-enhancing technology. Set custom reminders on the best time to fill out a sleep diary to improve adherence. Additionally, get your clients to follow an ideal schedule to increase compliance with your bedtime and wake-time recommendations. For example, you can prescribe relaxation exercises, like guided breathing techniques and progressive muscle relaxation meditations. You have control over the sleep improvement program so that you can personalize interventions based on your client's needs. SleepSpace technology was developed through the National Institute of Aging and the National Science Foundation funding. SleepSpace's sleep detection algorithms were validated in peer-reviewed journals, and you can learn more about our sleep science and philosophy here. We are running a clinical trial to demonstrate that the platform is the most effective sleep solution on the market (learn more here).
Register Today (only $99 / year for a limited time)
What you get:
• View data from wearables and the consensus sleep diary
• See clients faster by managing progress on our web platform (no more paper sleep diaries)
• A special link that will unlock SleepSpace for a 30-day free trial to all your clients
• A yearly subscription to SleepSpace
• Get your practice listed within the SleepSpace iPhone and Android apps
• Get exposure for your practice on our website and email campaigns
• Sleep mastermind, where you learn new scientific insights about sleep
Consensus Sleep Diary and Clinicians Dashboard
Add and view your client's aggregated sleep data from the consensus sleep diary, a wearable, or any smartphone. Access detailed metrics such as heart rate, phone motion, wrist motion, HRV, pulse oxygenation and sound in the room. Gain insights about factors like snoring, breathing, phone addiction, or noises that can impact sleep. The below images illustrate other types of sleep data you can see from your clientele. SleepSpace metrics on sleep onset latency, wake after sleep onset (WASO), sleep efficiency, and more.
1-year subscription to SleepSpace
Becoming a Sleep Specialist also provides you with a 1-subscription to use SleepSpace for yourself (valued at $39.99), including:
- An instant analysis of your sleep
- Accurate sleep tracking with any smartphone or wearable
- Personalized sleep programs
- Sounds for relaxation & deeper sleep
- Smart bedroom set-up (lights and sounds)
- Tips from Dr. Snooze, our AI chatbot
- Access to a 42-day sleep improvement program
-Track with Apple Watch, Oura Ring, Whoop, Biostrap, Dreem Rhythm, the SleepSpace Smart Bed, and more.
Addressing Orthosomnia
Moreover, to address orthosomnia, users can set SleepSpace to diary focus mode. In diary focus mode, sleep efficiency is emphasized, and a sleep diary is entered before wearable or nearable data can be viewed. As a result, the perceptions of sleep are emphasized over the output of the sleep tracking devices. Read more about a detailed description of how SleepSpace addresses orthosomnia.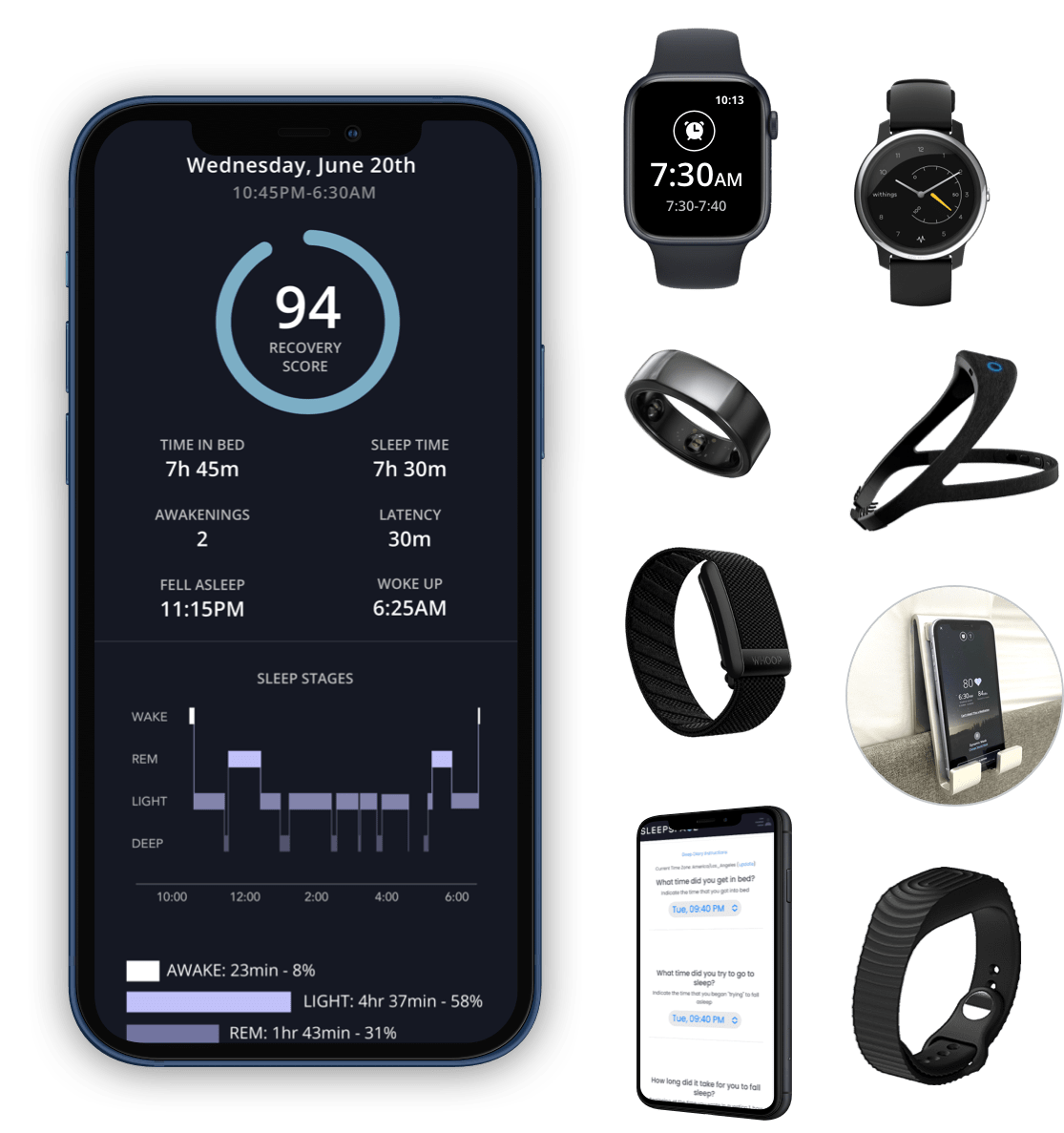 Available for iPhone, Android, and the Web, SleepSpace is the most advanced tracking and sleep improvement system on the market. Make your practice more efficient and effective while increasing your reach. You can see our current team of coaches here.


Register Today (only $99 / year for a limited time