10 reasons why you'll never need another sleep app
What if you could sleep better, every night? How would your life change? The truth is better sleep means a better life. The ugly truth is 1 in 4 Americans is an insomniac and 1 in 3 suffer from sleep deprivation consistently. And almost everyone isn't optimizing their sleep quality the way they could be.
Ready for the good news? For the past decade, sleep scientist Dr. Dan Gartenberg has helped thousands of people get better sleep and has won more than $3.25M in grants for his pioneering sleep improvement research. He then built the SleepSpace platform to bring custom sleep improvement solutions his proprietary coaching method to help millions live longer, happier, and healthier lives.
Let's explore 10 common questions to understand why SleepSpace is the sleep solution you never knew you needed, and can't live without. And, why you'll never need another sleep app!
1. What if I don't need a sleep app?
Let's face it! The world doesn't need another app feeding our smartphone addiction. So, if you are going to download a new one...it better be epic! Sadly, most so-called 'sleep apps' are simply tracking devices, reporting in the rear view mirror what we already know - that we DID NOT sleep well through the night! This is why 93% of humans press the 'snooze' button on sleep apps today. Or, at least they did, until SleepSpace disrupted the industry by offering an app that uses the science of sound, light, and vibration at the right time during sleep to help you fall asleep faster, sleep more deeply, and wake up refreshed. We call this process of improving your sleep, your 'Sleep Journey.'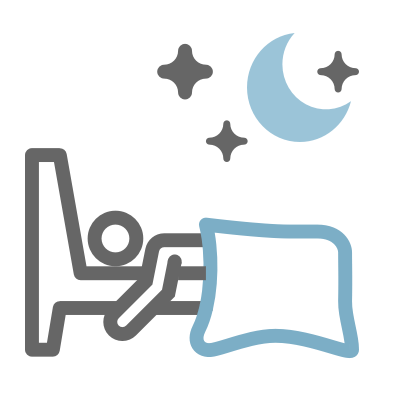 2. Do I really need better sleep?
Yes. Did you know that not all sleep is created equal? While ideal sleep quantity ranges between 7-9 hours, it's both the quantity and quality of your sleep that determines your restfulness. That's right - sleep is a game of quantity AND quality. For deeper quality sleep, when we fall asleep and how we wake up matters as much as light exposure, sound, and temperature. A few minor changes with timing and environment can make a huge impact on improving sleep quality.
But what happens if you're constantly getting poor quality sleep? It's not pretty. Poor sleep correlates to higher stress, depression, and obesity. Your risk of cancer, Alzheimer's, and heart attacks increases sharply.
Changing sleep habits can be hard. Most of us fail because it's counter to our culture to care about sleep. Society often promotes workaholism, late night outings, and a "sleep when you're dead" mentality that devalues the importance of sleep. Time to change that. It's the difference between living a long, healthy life or suffering to keep up.
3. How can SleepSpace help me fall asleep faster?
Often, just as we're about to fall asleep, stress and anxiety take over the mind like a swarm of bees. Racing thoughts and an elevated heart rate follow, and soon you're fully awake. Especially now, we're inundated with too much depressing news and starved for a little peace. Falling asleep fast has never been so tough.
The solution is physiological and psychological - calm the body and soothe the mind. By activating the parasympathetic nervous system, we bring the mind and body into a peaceful state faster. It's a process that has a beginning, middle, and end - and we call it a sleep journey.
Imagine building your own custom sleep journey on the SleepSpace app. From scientifically proven sounds, to bedtime stories, to wake up meditations, you'll experience a soothing sonic adventure nightly. We've even partnered with world class storytellers to whisk you away into deeper sleep states more effectively.
Each night of sleep helps us better understand your unique needs as our Artificial Intelligence optimizes smarter solutions in real time for you based on your SleepSpace score.
4. I struggle to stay asleep and sleep deeper - can Sleepspace help there?
Yes, deeper sleep is as simple as optimizing for, sound, light, and timing. Our smart AI technology adapts to your unique situation and optimizes these three factors for deeper sleep, every night.
Does your bedroom partner snore? Our smart sound machine can help. Is your room too hot? We offer simple solutions to ensure you stay asleep longer in a cool environment. Worried about not getting enough deep sleep? Try our custom deep sleep stimulation sounds that play throughout the night.
Here's how it works: You say, "Hey Siri, "I'm going to bed,". This starts your "Sleep Journey" that plays your custom falling asleep routine and then seamlessly transitions into a smart sound machine and a wake up routine of your choosing. Goodbye morning fog!
5. Why is my wakeup routine so important?
When was the last time you woke up naturally, feeling refreshed, and ready to take on the day?
The truth is how we wake up is how we own the day. Sleep scientists agree that we weren't meant to wake up jolted by an alarm. It's disruptive and unnatural.
Instead, wake up gradually to the sweet melody of birds chirping. A relaxing red hue gradually increasing in brightness to slowly awaken your eyes using your SleepSpace connected smart bulbs. Imagine a guided morning breath work or gratitude meditation to kick off your day in a powerful way. Then see what's working best for your unique sleep needs with the SleepSpace score and tailored AI tips on how to optimize your sleep even more.
It's all part of your custom SleepSpace sleep journey that you build, section by section. Backed by science, fueled by inspiration - SleepSpace is a space where you experience conscious sleep for the first time.
6. How will I know if Sleepspace works for me?
Fair warning: use of SleepSpace regularly will have people asking you why you're so happy, energized, and creative. You'll notice a difference before the 7-day free trial ends.
Here's what one of our community members said:&
" First - Thank YOU. I went from sleeping 4-5 hours a night, chronically unhappy, and borderline disenchanted with life to having my most productive, creative quarter yet. Within 3 weeks of using SleepSpace and upgrading to premium, I felt unstoppable - like I had a personal sleep coach in my pocket. Creating my own sleep journey was the best part. Cool visual interface too. Three months in, family and friends have noticed a positive change in my mood. I'm more energized now than in my 20's. This much is clear: sleeping is the top cure, and SleepSpace is the top coach." - Danny
Who benefits most from SleepSpace? Anyone chasing their dreams, aiming high, and making it happen (aka YOU). We've heard rave reviews from athletes, insomniacs, students, and parents around America. We make it fun by gamifying your SleepSpace score results where you see your performance supercharged. Win. Win.
7. What's the story and science behind the SleepSpace platform?
Ten years ago, our founder was burnt out and exhausted. As a college student, he grew intrigued by sleep and continued to earn his PhD researching how to not just measure sleep but enhance sleep. Dr. Dan Gartenberg went on to create a pioneering sleep technology that was awarded more than $3.25M in grants from the National Science Foundation and National Institutes of Health to improve sleep quality and reduce early conversion into Alzheimer's Disease and Alzheimer's related dementias. Dan has a vision to bring his individual sleep coaching to every human being on the planet, and set out on building SleepSpace (formerly Sonic Sleep Coach), three years ago with a team of scientists, designers, and technologists.
He became a TED resident, and his TED talk on the benefits of deep sleep became a viral hit with more than 4M views. Simultaneously, dozens of published peer reviewed articles validating our technology have given us solid support from the scientific community. Our unique approach captured the attention of top investors like Dave Asprey - the father of biohacking - showing the world the untapped potential of a better night's sleep.
The science is simple and complex. If you're curious to dive deeper, check out this article and this podcast where Dr. Dan explains our secret sauce from a scientific approach.
8. How can a sleep coach improve my sleep game?
"Alone we go fast, together we go farther" Helen Keller wrote. That sums up how we feel about sleep coaching. Anything you want to improve in life, will almost always be more successful with coaching and accountability.
Every athlete's game benefits from a coach. Every leader's style benefits from a coach. Every human's sleep benefits from a sleep coach. Check out our living coaching service
Given how expensive one on one coaching is, we knew we had to make it easy and affordable for our community. We invested in top of the line AI, so that SleepSpace automatically processes your SleepScore and serves real-time tips from real SleepSpace doctors and coaches. All at your unique pace, for your unique needs.

We pioneered a single, universally-effective sleep journey experience garnering hundreds of 5-star customer reviews organically, without any paid advertising. We understand the market is saturated with copycats, so we let our customers do the talking and the caliber of science speaks for itself.
9. How does the app work? Will I become dependent?
Simple: all you need is an iPhone to us SleepSpace. Intermediate: for richer functionality pair your Apple Watch or other wearable Oura ring, Biostrap, Eight Mattress, Garmin, or Withings device Advanced: like an orchestra maestro guide your sleep with sound and light by integrating with smart bulbs like LIFX Bulbs and Phillips Hue.
Ethics matter to us. SleepSpace is tech for good. Think of us like a friend who happens to be an expert in all things sleep. Some days, you'll fall off the wagon - and that's when we're here to help you prioritize your health.
10. What's this going to cost me?
We offer a 7-day free trial of the app so users can experience all the SleepSpace features before deciding to make a purchase. Premium unlocks our deep sleep stimulation sounds, top meditations, advanced analytics on your sleep quality, AI sleep coach and more customizable smart alarm clock. Get our full library of proven relaxation tones, nature sounds, meditations, and breath work exercises. Our premium annual deal is only $39.99, or go monthly for $4.99.

You are in control of your life and our app and decide whatever is best for you. We want everyone to experience better sleep so we offer a 7-day trial to our community. We are here to help you solve your sleep challenges and optimize your life: let us know if you don't love it, we make sure you have a better night of sleep.