How to Use SleepSpace as a Research-Grade Tool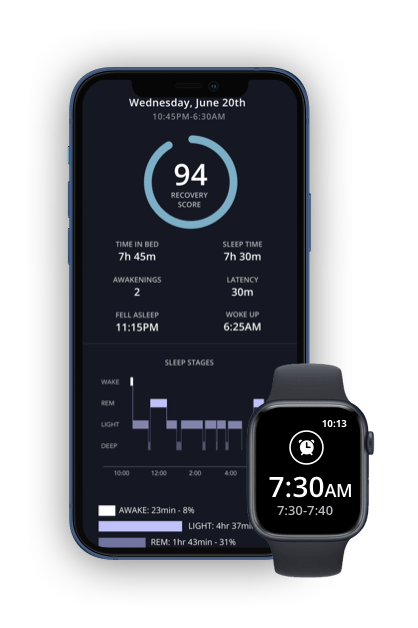 Wondering if your product improves sleep? SleepSpace can help.
SleepSpace is your partner in sleep research. We have teamed up with the National Institute of Aging, Penn State, and the University of Arizona to create the most accurate and accessible at-home sleep measurement technologies. Our primary interest is using wearable and nearables to evaluate sleep. By accurately measuring sleep, we can figure out the most effective ways to improve people's sleep and share our findings with the world.
Want to use SleepSpace as a tool for your research?
SleepSpace's technology has been used by top scientists in the field of Sleep. We have evaluated various sleep solutions including the impact of sound, light, and bedding. Our research has been featured in premier journals (see full list). By integrating with devices that most people already have, such as Android Phones and iPhones, we have developed one of the cheapest and most accurate ways of measuring sleep using the SleepSpace Smartbed nearable sleep sensing technology. This technology can provide researchers with high-resolution motion data (50 Hz) and sound data (10 Hz) from these smartphones. We then provide our analysis of Sleep / Wake from this data, along with measures of noise pollution in the home environment. If participants have an Apple Watch, you can extract x,y,z motion data (50 Hz) and heart rate data (.2 Hz) from this wrist-based actigraphy device that has been validated in our peer-reviewed publications as one of the most accurate measures of Sleep / Wake. We have a pending publication showing accuracy of about 80% for our sleep staging algorithm that uses the Apple Watch. Additionally, researchers can extract the output of Sleep / Wake and staging data from various devices that we connect with, such as Garmin, Whoop, Oura, Eight Mattress, and more.
How else can SleepSpace help my laboratory with their research?
SleepSpace was developed by PhD's in experimental technology, so we designed it for this use case in mind. Most research requires manipulating some variable at a specific point in time. We empower researchers to do this by enabling them to create customized programs for conducting their experiments. For example, you can tell users to take a certain supplement at a specific time, receive behavioral interventions such as CBTi-based information, or even instruct users to go to bed at a certain time and use a special pillow or device. This helps researchers improve compliance when conducting remote studies. We also extract relevant information on the subjective experience of sleep using a digital form of the clinically validated consensus sleep diary. As a researcher, you will receive access to a dashboard where you can monitor the participants' data and compliance with your study.
SleepSpace Smart Bed and Phone Charger
For touchless sleep tracking, the patented SleepSpace Smart Bed accurately measures micro-motions and sound in the room without a wearable device, while charging the phone. Our wireless charger keeps the bedroom completely dark and orients the phone for less light exposure during an incoming text or phone call. It is compatible with all major smart phones including: iPhone 12/11/8,Pro Max/XS/XR/X/iPad Pro, Samsung, Galaxy, Pixel. It includes an adaptor that makes it compatible with Apple MagSafe charging of iPhone 12/13 for fast, magnetic charging and it charges through most rubber/plastic/TPU cases less than 5 mm thick. The aluminum casing also deflects EMF exposure from the phone.
Get the SleepSpace Smart Bed
If you are looking to test your sleep technology or conduct academic research projects, SleepSpace can provide:

1. Motion data from the Apple Watch, sampled at 50 Hz, with each sample containing. 

a. The attitude (orientation) of the Watch 

b. Tri-axial (x, y, z) accelerometer data, with the effect of gravity removed 

c. Tri-axial (x, y, z) accelerometer data, representing the effect of gravity 

2. Motion data from the iPhone, sampled at 50 Hz, with each sample containing 

a. The attitude (orientation) of the phone 

b. Tri-axial (x, y, z) accelerometer data, with the effect of gravity removed 

c. Tri-axial (x, y, z) accelerometer data, representing the effect of gravity 

3. Heart rate from the Apple Watch, with beats-per-minute (BPM) provided approximately every 5 seconds 

4. Ambient sound pressure level (SPL) at 10 Hz 

5. Sleep data from most major wearables (any device which writes data to Apple Health) 

6. Sleep stages 

7. Digital sleep diary 

8. Delivery of sound and light (smart bulbs) 

9. Aggregate sleep data from your participants 

10. Deliver custom interventions for your study
Research partnerships
SleepSpace has recently worked with the following organizations to test their sleep technologies:
We are running a Phase II SBIR clinical trial via a grant with the National Institute of Aging and through a collaboration with Penn State University (Dr. Orfeu Buxton and Dr. Margeaux Schade) and the University of Arizona (Dr. Daniel Taylor and Dr. Sarah Emert). This is a followup study to our research with Penn State where we validated using our wrist-based Apple Watch algorithm to accurately measure sleep (see more), and then enhance sleep using deep sleep stimulation administered in a lab (see more). We brought on Daniel Taylor to help us navigate how to use such innovative technology to address the problem of insomnia and its impact on what will be the biggest burden on the healthcare system in the next 20 years, Alzheimer's disease and related dementias. If successful we will develop the most effective treatment for insomnia available (see more).
We teamed up with Google and LIFX smart bulbs to investigate how smart lights and the Google voice assistant technology can improve sleep quality. We found that saying, "Hey Google, Dim my lights" at bedtime and "Hey Google, Brighten my lights at X:XX time" at wake up improved perceived sleep quality on a validated survey. This was compared to a sham condition where we popped the lights subtly to control for the Hawthorne effect. We found that this procedure to improve people's perceived sleep quality on a validated sleep assessment called the PROMIS and that other sleep metrics were also improved based on the SleepSpace tracker technology and sleep diary (see study details).
In a 3-week study, participants were given standard cotton sheets and ettitude CleanBamboo sheets and each person was randomly assigned to one of the two conditions. Sleep was tracked using the SleepSpace Smart Bed and Phone Charger and the clinical sleep diary found within the SleepSpace software. Bamboo was much preferred over cotton, with 94% of participants preferring it. The CleanBamboo sheets were also found to improve sleep across a number of sleep metrics including perceptions of sleep quality on a validated survey and sleep efficiency, i.e. percentage of time in bed. Participants reported a 1.5% improvement in sleep efficiency when using the bamboo sheets compared to their original sheets (click here for study details).